A Cooperative Neighborhood at Earthaven Ecovillage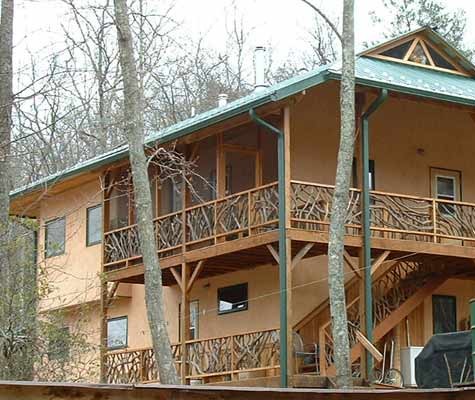 Pokeberry Hill
Village Terraces includes this state-of-the-art residence completed in 2008, combining the best in green building and sustainable passive-solar construction. It is a duplex owned by Bob and Debbie (upstairs) and Martha (downstairs). (Next door, another apartment is for sale.)
Known as "Pokeberry Hill," the building has an advanced passive solar design and is built of sustainably harvested lumber and other environmentally friendly materials. 95% of the lumber is from Earthaven land.
The electricity used for construction was solar power backed up by a biodiesel generator. In addition, a biodiesel-powered truck was used to transport materials and haul logs for milling into project lumber.
Both AC and DC electricity are provided through the Village Terraces common photovoltaic system as well as a hydro generator. In addition, residents share in the common building and other neighborhood infrastructure, described below.
Both floors of the duplex have radiant floor heating provided through the Village Terraces common wood-fired boiler. The photo at right shows the first floor hydronics before the concrete was poured.
Each floor includes a super low-emissions wood stove as a back-up heating source.
Domestic hot water is supplied both by the boiler and by flat-plate solar hot water collectors. The building also has a roofwater catchment system and is part of the neighborhood graywater system.
The upper floor has 925 heated square feet plus a shared utility room (70 sq ft). It also includes a covered wraparound deck on two sides of the building, two private entrances, and access to attic crawlspace storage.
Each floor includes a kitchen with concrete countertops and a full bath. The approximate cost of a similar unit (one floor) at VT would be about $140,000 finished (in 2008 dollars). The Village Terraces common infrastructure fee would be about $33,000, bringing the total to about $175,000.
The Village Terraces common infrastructure fee covers costs of clearing, pad excavation, driveways, graveled parking, landscaping, photovoltaic and hydro electricity, well, wood-fired boiler heat, septic graywater system, roofwater catchment, terraced gardens, common kitchen, common utility room, common living area, common bathroom and indoor composting toilet, and more.
Because the common infrastructure fee is based partly on square footage, smaller units at Village Terraces would have a lower common infrastructure fee as well as costing less to construct.
Village Terraces Housing Cooperative has a membership process to help you discover if you will love living in a cohousing neighborhood within an ecovillage.  If you pursue membership at Village Terraces, we can provide additional information such as an overview of Village Terraces common infrastructure, a neighborhood plan, and cost estimates. Email