A Cohousing-style Neighborhood at Earthaven Ecovillage
Who is Village Terraces?
Village Terraces is a neighborhood "pod" within Earthaven Ecovillage. Our vision is to create extended family and a deep connection to the earth, ourselves, and each other. With the completion of our first two buildings (of four), we are home to eight adults, two children, Southeast Wise Women, and two other home businesses. We plan to grow to 24 adults plus children with an abundance of gardens, orchards, and animals to help us thrive.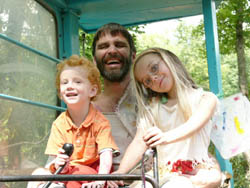 What We Value
We share all of Earthaven's ecological and spirit-guided values and agreements. In addition, the following values are particularly important to us:
Honest and responsible communication with an active willingness to resolve conflicts in a healthy manner.
A commitment to consciously and lovingly raising both plants and animals for food.
Love and acceptance of ourselves, our bodies, and the cycles of life and death.
Cooperative living in common-walled buildings built with local materials.
A desire to raise children together in a neighborhood and village context.
Our Vision for the Future:
Features of Our Neighborhood
Village Terraces features affordable and elegant private apartments designed and built with cooperative decision making, using local materials and labor, and sustainably harvested lumber. Learn more about our buildings.
What we share:
Energy systems (solar and hydro based)
Heating systems (non-petroleum-based)
Large kitchen and great room
Bathroom with tub and shower
Root cellar
Guest room
Indoor kids space
Tools
Utility room/pantry
Washing machine
Appliances
5 acres of neighborhood land
Outdoor playground
Library of sustainability resources
Indoor and outdoor composting toilets
Walkways, paths, ponds, benches
Graveled parking
We also share chores, childcare, meals, social time, decision-making, our hearts, and our lives.
What is Cohousing?
The term Cohousing was developed by two American architects, Kathryn McCamant and Charles Durrett, who studied this housing model in Denmark. Cohousing is an attempt to utilize the social, economical, and practical benefits of cooperative living while at the same time allowing for individual needs and privacy. In cohousing, families reside in their own private apartments but unlike traditional urban or suburban neighborhoods where anonymity is the rule, cohousing not only allows for, but strongly encourages social interaction, interdependence, and cooperation among all members. This is usually done through the informal and formal day-to-day gatherings in centrally-located, jointly-owned common spaces such as kitchen, gardens, pathways, play spaces, and lounging areas. Learn all about cohousing at cohousing.org
Openings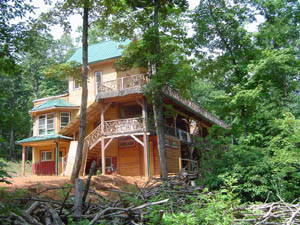 We are open to interested folks who want to help us create our vision. We desire mature, responsible folks with good communication skills who can fulfill all membership requirements for Earthaven and can bring skills, time, energy, and money to this project. Email Village Terraces at
Joining Village Terraces Neighborhood means first becoming a member of Earthaven Ecovillage. Please explore the village through our website, a tour, and extended visits. Tours are offered on Saturday mornings at 10:30 by reservation.
To contact Earthaven for a tour please call 828-669-7271 or email
.
There is currently an apartment for sale at Village Terraces.
Ten Reasons We Love Living at Village Terraces
Personal growth and healing through deep relationships with ourselves and others.
A built in "extended family" and playmates for children.
Village Terrace residents have the option to invest in the working operations of our small neighborhood farm.
A supportive path for those who value simple, cooperative, and sustainable living.
A way for elders to contribute in a substantial way that benefits all.
A balance of private and common space.
A sharing of costs – both building and maintenance, which creates more affordability.
Opportunities for home-based businesses.
A design that uses land more efficiently in order to leave more "open" space for agriculture and wildlife.
Earth-healing processes such as natural building construction and permaculture design principles.