It is said that money is to the community as blood is to the body…. Money that comes into Earthaven circulates through many lives and projects. This helps us thrive, grow more quickly, and create powerful solutions for the world.
Become a Supporting Member of Earthaven

Receive emailed Earthaven newsletters and calendars of events.
One week of free camping per six months of membership, and discounted rates thereafter.
Attend community events, council, and committee meetings.

Sliding scale supporting memberships are $60 to $100 for six months and $120 to $200 for one year. To join online, click the button for the level you desire:

After joining, please email us your contact information and, if you wish, answer the questions in the Supporting Membership Form.

If you prefer to donate by U.S. mail, follow these instructions:

Print the Supporting Membership Form (pdf format) and fill it out.
Print two copies of the ReMembership Covenant (pfd format).
Mail one signed ReMembership Covenant, the completed Supporting Membership Form, and a check for $120 to $200 (for a year) or $60 to $100 (for six months) to Earthaven Supporting Membership,
5 Consensus Circle, Black Mountain, NC 28711.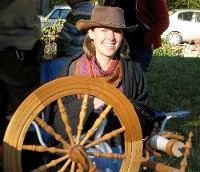 We hope that Earthaven is a lifeline to a realistic model on your path towards creating a more sustainable culture. Please remember as you tour Earthaven that you will encounter unfinished projects and other things that look incomplete. We are working with limited people—hours, labor, and money. While we have huge vision, we have only just begun.
Thank you for your interest in us.
"The more wealth the alternative movement acquires, the better our builders will be paid, and the better chance ecovillages will succeed and not disintegrate from financial stress, and the faster we'll see change in the world."
—Enrique Hidalgo, How to Really Support Ecovillages