Earthaven is an independent-income community, which means each community member is responsible for earning her or his own living. Below are some of our businesses and other ways some of our members earn a living.
We are in the process of developing our own village-scale economy, and so encourage Earthaven members to make a living here in the village, by operating their own small-scale ecologically sound businesses, by hiring each other whenever possible, or by telecommuting to outside jobs. We also encourage members, when possible, to invest in other members' homesite development projects and businesses. We would someday like to establish our own small credit union, through which we could deposit funds and make loans to our members for homesites, home construction, on-site business development, and so on.
Meanwhile, many of our members do earn a living here at Earthaven, often with various part-time incomes. For example, one of our members has three Earthaven-based income sources: woodworking, selling books (in another member's business), and counseling.
Earthaven-based Businesses
Finding Community: How to Join an Ecovillage or Intentional Community.  Written by Earthaven member Diana Leafe Christian with a chapter by longtime Earthaven member Sue Stone. Based on personal experiences of community seekers and communities seeking new members, the book includes how to research communities online; find those that match your vision, values, preferred climate and location, employment needs, and affordability needs; get the most out of your community visits; intelligently evaluate what you've seen; and join your chosen community gracefully.Published by New Society Publishers, 2007. Available at your local independent bookstore, or order from the intentional communities store.
School of Integrated Living (SOIL). Lee Warren and NikiAnne Feinberg. SOIL is an educational organization and social enterprise that teaches whole-life skills for a radically different and sustainable future. Its experienced team of permaculture practitioners, conscious communicators, and unconventional leaders provide classes that transform students' inner and outer worlds. Whether through weekend workshops or the flagship Permaculture Design Course, participants in SOIL classes learn to make informed and responsible choices for their basic needs, understand their impact on society, forge real connections with themselves and others, and ultimately contribute to a more sustainable and just world for all.
Southeast Wise Women. Based in 20 years of handcrafting herbal medicines through Red Moon Herbs in the Wise Woman Tradition, founder Corinna Wood and a web of women of the extended community run Southeast Wise Women, with headquarters housed at Earthaven Ecovillage. They organize the Southeast Wise Women Herbal Conference as well as Saturday Studies, a 6-month program led by Corinna Wood on "Coming home to yourself and the plants." These programs have become renowned opportunities for women to learn, connect, and deepen with the plants, the earth, and their own bodies. www.sewisewomen.com.
Sunworks Electric specializes in off-grid and grid-tied w/ battery back-up power systems as well as conventional electrical services. Sunworks is owned and operated by Chris Farmer, an Earthaven Member, who has lived off-grid for over 20 years, and on sunny days can run his welder and plasma cutter on his off-grid solar system. Learn more about their work and team on their website. Available for start to finish services as well as professional consultations.
Useful Plants Nursery. Landscape Design. Lyndon Felps. Hardy perennial trees, shrubs, vines, and herbaceous perennials for food, medicine, and other uses, specifically adapted for soil and climatic conditions of the Katuah Bioregion and surrounding regions. Thirty years' experience designing gardens, landscapes, and other outdoor projects in the Southeast and other regions. www.usefulplants.org; 828-669-6517.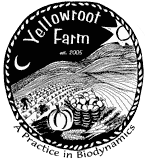 Yellowroot Farm. Julie McMahan and Andy Bosley. Yellowroot Farm is a biodynamic, CSA farm encompassing 1.5 acres at Earthaven, both in the Hut Hamlet Neighborhood and near Hidden Valley Road. It uses an integrated rotational system of animals, cover crops, and annual vegetables. Yellowroot sells produce, eggs, and value-added food products through its CSA and at local farmer's markets. Yellowroot Farm's pigs provide both meat and soil fertility—they transform waste areas into land ripe for cultivation by efficiently rooting and turning over soil. Yellowroot's animals are humanely raised, free-range, and fed homegrown feed as much as possible. 828-669-5226.
Teachers and Consultants
A number of Earthaven members make their living by teaching classes on various aspects of natural and community living, and by offering consulting services. The skills these experienced and visionary teachers brought to Earthaven are part of what makes Earthaven the success it is today. Nationally recognized, most of these teachers offer their services both at Earthaven and at other locations.

Diana Leafe Christian. Sociocracy Training, "N St. Consensus" Training, Community Consulting. Author, Creating a Life Together and Finding Community; publisher, Ecovillages Newsletter. Consulting and workshops: (1) Creating successful new ecovillages and other kinds of intentional communities. (2) Effective self-governance methods (Sociocracy, N St. Consensus Method). (3) Ecovillage projects worldwide. www.DianaLeafeChristian.org; 828-669-9702; 

Mollie Curry. Natural Building. Mollie has been teaching natural building since 1998, including cob, strawbale, straw-clay, wattle and daub, and earth-  and lime-based plasters and paints. Consults and contracts home-building projects, with a special focus on natural paints and plasters. Teaches natural building at Earthaven and regionally, with MudStrawLove. 828-775-4823.

Arjuna Da Silva. Consensus Training. Sixteen years' training folks and facilitating consensus and group processes. A recent testimonial: "We were impressed with Arjuna's capacity to assess the group, ask the right questions, and deliver the required information in a way most useful for the group." TL/GVP. References available. 828‑669‑0114; 
Steve Torma. Compassionate Communication and Body-centered Psychotherapy Training and Counseling. Twenty-five years' experience leading personal growth workshops, integrating ideas and practices from sources including Body Electric School, The Body Sacred, Radical Honesty, and Nonviolent Communication. Certified Cuddle Party facilitator. Training and counseling for individuals, couples, and groups. 828‑664‑0628.  theREALcenter.org.

Corinna Wood. Herbal Medicine and Women's Health. Director of Southeast Wise Women and founder of Red Moon Herbs, Corinna has opened the hearts of thousands to the wisdom of the plants, the earth, and their own bodies. Specializes in herbal medicine, women's health and NVC, based in the Wise Woman Tradition of honoring women and the Earth. www.sewisewomen.com.
Other Goods and Services at Earthaven
Alternative Electric and Water Systems. Sunworks Electric. Greg Geis, 
Darren Geffert, 
Chiropractic, Reiki. Gaspar Robles. 828-669-1652.
Creating a Life Together: Practical Tools to Grow Ecovillages and Intentional Communities (New Society Publishers, 2003). Diana Leafe Christian. Available from intentional communities store.
Earthmoving. Paul Caron. 828-669-4625.
Energy Efficient Appliances. Greg Geis, 
Finding Community: How to Join an Ecovillage or Intentional Community (New Society Publishers, 2007). Diana Leafe Christian. Available from intentional communities store.
Fine Woodworking. Furniture Magician. Paul Caron. 828-669-4625.
Hypnotherapy. Arjuna Da Silva. 828-669-0114; 
Massage, Reiki, Jin Shin Jyutsu. Melissa Lemoing. 828-669-2286; 

Members' Goods and Services Available Off-land
Asheville Integrative Medicine, Asheville. James Biddle, M.D. www.docbiddle.com, email  or call 828-252-5545.