Founding Day Parade 2011
On Sunday, September 11, I heard music and drumming in the distance on Another Way, the road in front of our house.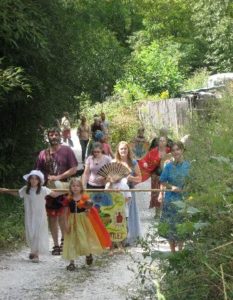 The Founding Day parade was marching down the road from the direction of our front gate. Banners, flags, drums, people smiling and waving.


Every year we celebrate our birthday — September 11, 1994 — with a parade. This is the day Earthaven's 12 original founders pledged money at an afternoon tea party to buy our 320 acres.