Are We At The End Of The Experiment?
I just learned about this word: "Anthropocene," which is a proposed geological epoch starting with "significant human impact on Earth's geology and ecosystems," including, but not limited to, anthropogenic climate change.
I pulled that from Wikipedia. But the concept that humans are creating an entirely new geo-ecological epoch is a big deal. Our destabilization of the life support systems may change the planet so significantly that it takes millions or billions of years to recover.
That's why so many people are looking at models for life-giving, planet-focused, integrated systems for life, love, work, family, and home.
Earthaven Ecovillage, with our land-based life, is just one of many approaches to new ways of being. Come spend a week with us to see what we're up to regarding these "new ways of being."
Earthaven Ecovillage EXPERIENCE WEEK is an opportunity to live with us and immerse yourself in our village. Our curriculum includes:
Organic food production
Natural Buildings
Renewable Energy
Off-Grid Utilities
Resilient Community
Regenerative Culture
Personal Growth
Deep Connections
Read all the details about Experience Week. If you can't make it this year, please keep it in mind for next year or check out our Visitor Weekend in September. And thank you for being part of our global virtual community.
anthropocene, Earthaven Ecovillage Experience Week, new ways of being, Visitor Weekend
---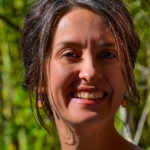 NikiAnne Feinberg
NikiAnne (she/her) was born and raised on a horse and cattle ranch on the ancestral lands of the Salinan people in the Central Coast of California. She currently lives at Earthaven Ecovillage on unceded lands of the Catawba and Cherokee (Tsalagi) people. Her ancestors come from Eastern and Western Europe — France, Germany, and English Isles as well as Belarus, Lithuania, and Russia, from Ashkenazi Jewish heritage. Throughout the last two decades, NikiAnne has been immersed in community and in service to a wide range of educational endeavors focused on nature connection, personal empowerment, and community resilience. NikiAnne considers herself the grease and glue – that which helps things run smoothly or holds things together. Before co-founding SOIL in 2012, she worked and traveled through much of Asia, the Americas, and Europe, which made her formal education at George Washington University in International Affairs come alive in ways that can only happen through personal experience and relationships. Collectively, these experiences have undeniably shaped her cooperative cultural values and commitment to supporting leaders to think, feel, act and design from a foundation rooted in interrelationship. No matter what she's teaching, NikiAnne is always on the same mission: to raise awareness of our whole selves – gifts, passions, blind spots, shadows – and help those whole selves find and fill niches in their communities. This is how the web of life is woven, and the fabric of culture repaired. She's especially eager to support those in transition – between vocations, stages of life, and stories of world and self. Within this context, she is particularly passionate about community grief tending and death care midwifery.
---