What's so bizarre about Earthaven's bazaar?
By Arjuna da Silva
Decades ago, Brandon Greenstein and friends initiated the "Bizarre Bazaar" at the White Owl in Earthaven Ecovillage, as an opportunity for folks to display, demonstrate, share, sell, trade, or give away the fruits of their labors in a variety of arts, crafts, and entertaining offerings. This heartful gesture has become a community feature ever since! Fresh food, handmade baskets, jewelry, clothing, hand-knit and crocheted accessories, jams, beverages, medicines, and more have continued to show up through the years. Most of us look forward to the brief, energy-packed afternoon together, our mid-December extravaganza in the Council Hall.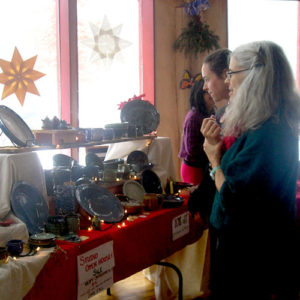 Last year, I heard a neighbor say, "I love bringing my latest inventions to the Bizarre Bazaar, just to see what I should focus on for the coming year." A friend who brings his year's accumulation of healthy blessings told me, "I've done the Bazaar for four years now, and it really does make a difference in my holiday economy!"
It seems that, for us Earthaveners and many of our neighbors, getting dressed up and sharing in the excitement of trade and the purveying of our homemade, homegrown, and upcycled goods, elbow to elbow in concentric circles of tables in the Council Hall is a ritual with multiple blessings.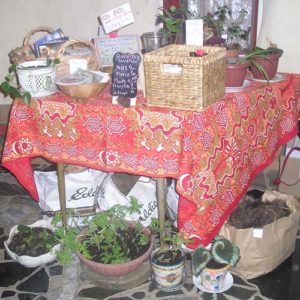 We remember to do what we do best and share it. Folks display and offer samples of new items and ideas since we last met. We can chomp and slurp as we sell and trade, wandering to each other's tables over and over again, considering deals we might make and changes for next year, as we meet new sellers and customers every time. It's even got me creating a table of my own, where I can upscale houseplant arrangements in adorable thrift store baskets and pass the profits on to our Village School. One of my favorite opportunities is when I'm able to offer original art work from close friends and former neighbors now living as far away as France!
One day, this may well be the main way we offer and access many of our basic needs, beyond the bulk items in our pantries. For now, the pleasure of shared commerce in an old-fashioned style keeps us looking forward to and showing up on that special Saturday in December every year.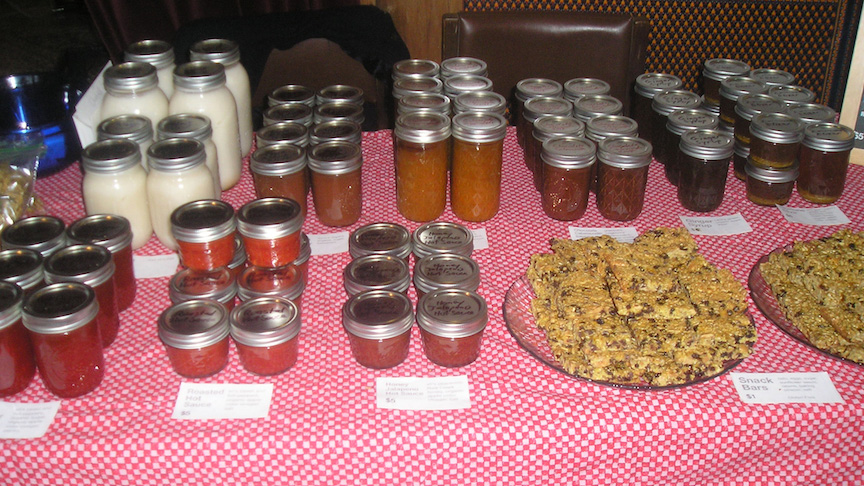 This year (2022), the Bizarre Bazaar happens on Saturday, December 10, from noon to 4 pm. And you are invited!