Is Place Important? – Virtual Tour
Back in the winter, I attended my friend Lee Warren's workshop on "Place-Based Living at Earthaven Ecovillage."

She talked at length about place. Specifically, she suggested that "we are cosmological orphans" in part because we aren't connected to place.

I've been sitting with that concept. Mulling it. Contemplating it. Considering it.

At Earthaven, we use the phrase "place-based" to describe our educational programs partly because we reside at Earthaven Ecovillage and all of our learning and teaching are born in that PLACE.

But also because we're trying to become deep, respectful, and integrated inhabitants of this place.

Lee also went on to say, "In our culture, we seem to not know who we are, where we came from, where we are going, or who it's for."

So I've been asking myself some questions:

What does it mean to become familiar to place? To humble ourselves to place? To learn from place? To steward place? To become indigenous to place? To learn about the gifts of that place?

I've been settled in this particular place for almost fourteen years, even though I hail from a far different place (California). And I realize that I'm just starting to touch on the deeper understandings of the cycles, mysteries, and wisdom of this place.

Here are a couple of my favorite quotes about place:
"Sometimes if you move carefully through the forest, breathing like the ones in the old stories, who could cross a shimmering bed of leaves without a sound, you come to a place whose only task is to trouble you with tiny but frightening requests, conceived out of nowhere but in this place beginning to lead everywhere. Requests to stop what you are doing right now, and to stop what you are becoming while you do it, questions that can make or unmake a life, questions that have patiently waited for you, questions that have no right to go away." – David Whyte

"A community is the mental and spiritual condition of knowing that the place is shared, and that the people who share the place define and limit the possibilities of each other's lives. It is the knowledge that people have of each other, their concern for each other, their trust in each other, the freedom with which they come and go among themselves." – Wendell Berry
If you would like to know more about the place we call home, please join me for our next Earthaven Ecovillage Virtual Tour next Wednesday, October 13, 2-4 pm. Find out more and register here. I look forward to meeting you and sharing this special place.
Earthaven Ecovillage Virtual Tour, place-based living
---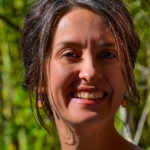 NikiAnne Feinberg
NikiAnne (she/her) was born and raised on a horse and cattle ranch on the ancestral lands of the Salinan people in the Central Coast of California. She currently lives at Earthaven Ecovillage on unceded lands of the Catawba and Cherokee (Tsalagi) people. Her ancestors come from Eastern and Western Europe — France, Germany, and English Isles as well as Belarus, Lithuania, and Russia, from Ashkenazi Jewish heritage. Throughout the last two decades, NikiAnne has been immersed in community and in service to a wide range of educational endeavors focused on nature connection, personal empowerment, and community resilience. NikiAnne considers herself the grease and glue – that which helps things run smoothly or holds things together. Before co-founding SOIL in 2012, she worked and traveled through much of Asia, the Americas, and Europe, which made her formal education at George Washington University in International Affairs come alive in ways that can only happen through personal experience and relationships. Collectively, these experiences have undeniably shaped her cooperative cultural values and commitment to supporting leaders to think, feel, act and design from a foundation rooted in interrelationship. No matter what she's teaching, NikiAnne is always on the same mission: to raise awareness of our whole selves – gifts, passions, blind spots, shadows – and help those whole selves find and fill niches in their communities. This is how the web of life is woven, and the fabric of culture repaired. She's especially eager to support those in transition – between vocations, stages of life, and stories of world and self. Within this context, she is particularly passionate about community grief tending and death care midwifery.
---