What Can We Let Go Of?
This time of year in Southern Appalachia the waning heat and waxing cold converge to produce sights, sounds, and smells unlike any other season. This weekend's convergence was resplendent here in our village, with the red leaves of the sourwood trees and the yellow leaves of the oaks and hickories — some still on the trees and others carpeting the ground.

The morning after our first frost, the tender basil had a final hour of beauty before giving up for the season while the hardy greens toughened up for the winter. The zinnias will tough it out for another couple of weeks while newly planted shallots remain tucked under a blanket of straw to grow through the winter.

Nature reminds us to ask: What can we let go of in our lives to allow space for something life-serving to emerge?
Earthaven's School of Integrated Living is itself in the waning phase of our 2021 in-person classes, which is making space for new online programs this winter and the emergence of a fresh slate of in-person classes in Spring 2022. While some of our programs wax and wane with the seasons, we give thanks for the steadfastness of our on-going, year-round tours (in-person and virtual), which give us a chance to connect and feed the fire of community with folks from all over the world.

Take a peek at our upcoming online programs:
Nature as Medicine — Gaia and Your Health, Vitality, and Spiritual Unfoldment with Swami Ravi Rudra Bharati. Five-week online workshop. December 6, 13, 20, 27, and January 3.
Thriving in Relationships — Five Tools for Success with Steve Torma. Five-week online workshop. January 10, 17, 23, 31, and February 7.
Join one of our upcoming Earthaven tours:
May we use this autumnal time to find clarity about what really matters and make space for something life-serving to emerge.
Earthaven tours, letting go, Nature as Medicine, seasonal changes, Steve Torma, Swami Ravi Rudra Bharati, Thriving in Relationships
---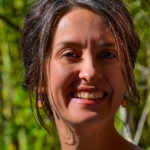 NikiAnne Feinberg
NikiAnne (she/her) was born and raised on a horse and cattle ranch on the ancestral lands of the Salinan people in the Central Coast of California. She currently lives at Earthaven Ecovillage on unceded lands of the Catawba and Cherokee (Tsalagi) people. Her ancestors come from Eastern and Western Europe — France, Germany, and English Isles as well as Belarus, Lithuania, and Russia, from Ashkenazi Jewish heritage. Throughout the last two decades, NikiAnne has been immersed in community and in service to a wide range of educational endeavors focused on nature connection, personal empowerment, and community resilience. NikiAnne considers herself the grease and glue – that which helps things run smoothly or holds things together. Before co-founding SOIL in 2012, she worked and traveled through much of Asia, the Americas, and Europe, which made her formal education at George Washington University in International Affairs come alive in ways that can only happen through personal experience and relationships. Collectively, these experiences have undeniably shaped her cooperative cultural values and commitment to supporting leaders to think, feel, act and design from a foundation rooted in interrelationship. No matter what she's teaching, NikiAnne is always on the same mission: to raise awareness of our whole selves – gifts, passions, blind spots, shadows – and help those whole selves find and fill niches in their communities. This is how the web of life is woven, and the fabric of culture repaired. She's especially eager to support those in transition – between vocations, stages of life, and stories of world and self. Within this context, she is particularly passionate about community grief tending and death care midwifery.
---