Useful Plants Abounding!
by Arjuna da Silva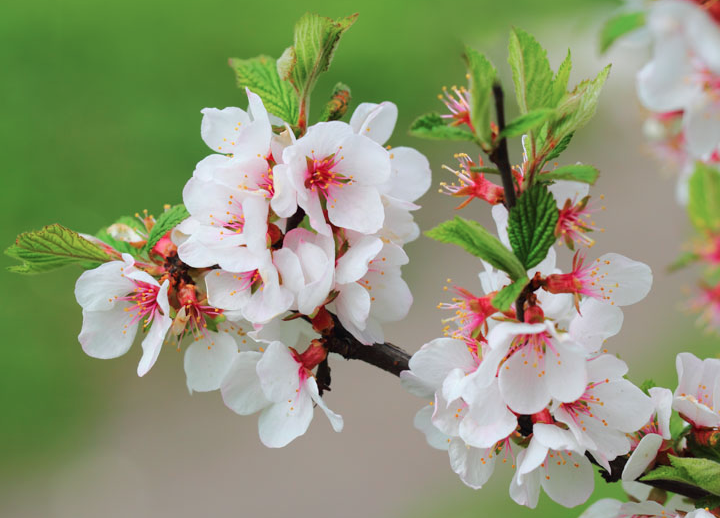 Another sign of Spring at Earthaven is the expansion of Chuck Marsh's Useful Plants Nursery from his homesite in Benchmark neighborhood. The nursery grows permaculture and edible landscaping plants that are well adapted to our mountains and the surrounding bioregions, with a specialty in phyto-nutritionals.
Kicking off the season at the annual Organic Growers' School, March 11, Chuck offered workshops in growing useful plants and displayed his exclusive variety of potted herbs, berries, nuts, fruits and medicinals for sale. He'll present day-long versions of the workshop at Earthaven on April 29 and July 8. You're invited to stop by and see what he's got in the nursery to share, including both plant science and folklore.
Chuck's plan for the Spring and following seasons is to expand the nursery downhill onto a leased agriculture site occupying the bottom flats of the current main campground. The upper camping sites will probably remain in place for at least another year, while the permanent campground at Hidden Valley Road is gradually developed.
Wolfberries, Jaogulan (Chinese herb), Jujube, and Goumi are some of the more exotic plants Chuck features, alongside Elderberries, Blueberries, Raspberries, thornless Blackberries, Fig trees, Apple trees, Pecans and Walnuts, and various kinds of Cherries. If you give him a holler, you can set up a time to come pick out your own pots. He'll give you the lowdown on the health values of delicious foods you never suspected would be so conducive to your well-being! You'll also meet Chuck at his Useful Plants stall at the Greenlife tailgate market on Wednesday and Friday afternoons in Asheville and at most local herb and gardening festivals all year long.
chuck marsh, goumi, organic grower's school, permaculture, spring, useful plants nursery, workshop