Steve Torma ~ Keeper of the Flame
In this post we profile one of our villagers.
"My whole life has been leading toward me doing this role."
Steve Torma is guiding Earthaven through the awkward teen years as Earthaven's Fire Keeper. As Fire Keeper, Steve seeks to honor and value the community history while accepting change and valuing transformation.
Steve sees Earthaven as one of the places on the planet that's grappling with what humans need to do to evolve as a species. Steve believes that for Earthaven to thrive, we need to balance our attention between developing the physical and cultural aspects of the village. To keep this balance, he uses the four-quadrant view of the Integral Model:
I quadrant – how I view reality, what I like and don't like
It quadrant– my body and things, such as food and housing
We quadrant – relationships between two or more people
Its quadrant – systems that we are part of, such as collective buildings, the ecosystem, and external governing bodies
During the first 15 years of the community, Earthaven placed most of its attention in the It and Its quadrants — developing the roads, water systems, community buildings, housing, and farms needed to house the village. With some of those completed, Steve sees "my role is being a catalyst in the I and we quadrants so we can evolve more successfully – be more creative and productive."
Steve explains more about the Integral Model at Earthaven in a series of videos:
Steve has a strong appreciation for "the value of the group mind and synergy of the collective intelligence." As Fire Keeper, he is the leader of the Fire Orbo, which is responsible for the overall well being of the community, including peace, safety, spirit, and community process, and is also the President of the homeowner's association. He is supported in this role by his co-Fire Keeper, Kimchi Rylander, and a committee of Fire Tenders.
Steve's personal transformation mirrors Earthaven's. When he came to Earthaven Steve was in poor health and made his living selling books at conferences. After rebuilding his health and co-creating the Village Terraces neighborhood, Steve turned his attention to developing a teaching and coaching practice. Steve teaches through the REAL Center where he offers courses on compassionate communication and the art of intimacy. He also offers personal coaching and mediation services, and is available for workshop and consulting for groups and businesses.
For fun, Steve likes to build and fix things, enjoys lifting heavy objects, and gets deep satisfaction out of seeing the richness of life at Village Terraces and Earthaven. "With each passing year we become more of a village. I enjoy watching the children being able to walk around and knowing that they are held in the safety of our village. I also like having our own cow and chickens."
Kimchi Rylander, Steve Torma, The REAL Center
---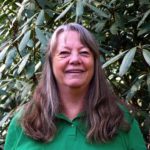 Debbie
Debbie Lienhart has been an Earthaven Ecovillage member since 2008 and is a Director of Earthaven's School of Integrated Living.
---