News from the Village
Greetings from Earthaven Ecovillage, where we're enjoying the clear colors of the autumn foliage and sky, the feel of cooler temperatures, and the sounds of acorns plunking on the metal roofs and valley floor.
| | |
| --- | --- |
| | The Forest Garden Learning Center has a new patio on the north side of the greenhouse. The new space is designed to serve multiple functions, such as a fruit stand, rest area, and welcome space for courses. Melissa Thurmond led the project, with help from friends. |
| | The OFF the GRIDdle Eco-Café is taking shape near the Council Hall with the arrival of a pair of shipping containers that will form the kitchen and dining area. The café is being developed as a private venture by Suchi Lathrup, Lance Penley, Liz Diaz, and redmoonsong. The café team plans to have the kitchen ready for a New Year's party. Follow them on their Facebook page: |
| | In farm news, on September 15, Imani Farm's cow, LC (Large Cow), gave birth to a heifer calf named Sassy Mae, and on October 8, Yellowroot Farm's sow, LaFonda, gave birth to 11 healthy, red-headed piglets. |
cow, Forest Garden, Imani farm, Liz Diaz, OFF the GRIDdle Eco-Café, shipping containers, Suchi
---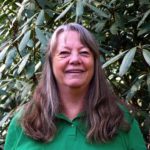 Debbie
Debbie Lienhart has been an Earthaven Ecovillage member since 2008 and is a Director of Earthaven's School of Integrated Living.
---