Creating Community With Women
I first read Anita Diamant's book, The Red Tent, back in 2007. A few years later, in 2012, at a women's gathering, hundreds of us watched Things We Don't Talk About: Women's Stories from the Red Tent, which documented the growing movement.
There was clearly a great need to share, discuss, and honor our internal cycles in a safe and supportive environment. Since then, the movement has expanded all over the world.
A teacher of mine, ALisa Starkweather, often called the mother of the Red Tent Temple movement, lays out some guiding principles such as: Red Tents are a place for women of all ages and stages; they are focused on our journeys as women; they encourage non-directed time, they are ideally held near the new moon, and they act as an archetypal womb space.
At Earthaven, we've been so lucky to have Kaitlin Ilya Wolf guiding our Red Tent gatherings for more than a decade. Having a consistent resource for scheduling, decorating, facilitating, and encouraging women to get together once a month has been beyond supportive; it's been transformative. And it naturally builds community among women.
Kaitlin speaking about Red Tents
Through SOIL, Kaitlin is now offering a four-hour online workshop on Red Tent Facilitation Training for women around the world who might want to start a Red Tent in their region. It's being offered three times: June 5, September 18, and December 4.

I'm so thrilled that we are able to offer this kind of encouragement and empowerment to other women who want to experience the kind of community that we have here at Earthaven.
community, honoring cycles, Kaitlin Ilya Wolf, Red Tent Facilitation Training, Red Tents, women
---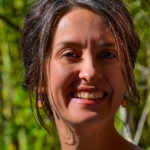 NikiAnne Feinberg
NikiAnne (she/her) was born and raised on a horse and cattle ranch on the ancestral lands of the Salinan people in the Central Coast of California. She currently lives at Earthaven Ecovillage on unceded lands of the Catawba and Cherokee (Tsalagi) people. Her ancestors come from Eastern and Western Europe — France, Germany, and English Isles as well as Belarus, Lithuania, and Russia, from Ashkenazi Jewish heritage. Throughout the last two decades, NikiAnne has been immersed in community and in service to a wide range of educational endeavors focused on nature connection, personal empowerment, and community resilience. NikiAnne considers herself the grease and glue – that which helps things run smoothly or holds things together. Before co-founding SOIL in 2012, she worked and traveled through much of Asia, the Americas, and Europe, which made her formal education at George Washington University in International Affairs come alive in ways that can only happen through personal experience and relationships. Collectively, these experiences have undeniably shaped her cooperative cultural values and commitment to supporting leaders to think, feel, act and design from a foundation rooted in interrelationship. No matter what she's teaching, NikiAnne is always on the same mission: to raise awareness of our whole selves – gifts, passions, blind spots, shadows – and help those whole selves find and fill niches in their communities. This is how the web of life is woven, and the fabric of culture repaired. She's especially eager to support those in transition – between vocations, stages of life, and stories of world and self. Within this context, she is particularly passionate about community grief tending and death care midwifery.
---