News from the Village – A Recent Visit from Michael Dowd
Evolutionary evangelist and author Rev. Michael Dowd visited Earthaven recently on a Southeastern tour. In presentations on May 18 and 19 he provided important input on two of the most critical issues facing us as an ecovillage:
How do we deal with our inner and interpersonal realities so we can live in proximity and interdependence when many of our instincts evolved strongly against that?
How can we move forward in creating a shared cosmological and spiritual foundation so our life together can have more creativity, unity and fulfillment of purpose?
"It was great having my long-time dear friend Ecozoic co-conspirator with us for two lively presentations," said Earthaven Firekeeper Steve Torma.
For more information about Michael Dowd, see his website: http://thankgodforevolution.com/.
evangelist, evolutionary, Michael Dowd, spiritual, tour
---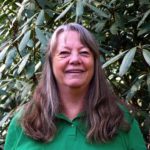 Debbie
Debbie Lienhart has been an Earthaven Ecovillage member since 2008 and is a Director of Earthaven's School of Integrated Living.
---