It Takes A Village
We recently revamped our entire outreach process.

You're hearing more from us by email. We're making lots of videos to share with you. And we are engaging more on social media.

During our first two decades on the ground at Earthaven we didn't have much capacity for outreach. And sometimes we still don't.

Part of our motivation for increasing outreach and our long-term goal is to create a viable, thriving, and elegant economic engine through Earthaven Ecovillage's School of Integrated Living.

That's why we're reaching out to our larger village–our global community–for support.

Here's our ask:
We recently received a grant from Google to advertise our workshops and classes on their platform but the process is very complex and beyond our skillset.
Are you someone who understands Google Adwords backend and would be willing to set it up for us and then maintain it and/or teach us how to manage it?
We really need someone who can commit to seeing us through at least the first three to six months of the setup and installation.
In return, you'll have our undying gratitude, access to as many online programs as you want to take, and knowledge that you've helped out this budding ecovillage project.
If you are interested, please reply to this email and one of our team members (probably Lee Warren) will be in touch with you about the details.Thank you for your time and consideration. We are so grateful to have such a beautifully diverse and far-reaching community.
Mulberry Madness
We are in love with mulberries around here and I absolutely love this photo of my dear friends and village residents harvesting mulberries a few years back.
Father-and-son time climbing a mulberry tree
If you're local, consider joining one of our Earthaven members and permaculture instructors, Zev Friedman, and his Nutty Buddy Collective buddy, Justin Holt, for a workshop all about mulberries. Their Mulberry Madness workshop covers grafting, pruning, and permaculture approaches to growing these useful native trees. The workshop is Sunday, May 30, from 10-2 pm Eastern time at Earthaven.
Justin Holt, Mulberry Madness, outreach, permaculture, seeking advertising support, SOIL, zev friedman
---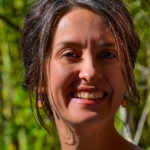 NikiAnne Feinberg
NikiAnne (she/her) was born and raised on a horse and cattle ranch on the ancestral lands of the Salinan people in the Central Coast of California. She currently lives at Earthaven Ecovillage on unceded lands of the Catawba and Cherokee (Tsalagi) people. Her ancestors come from Eastern and Western Europe — France, Germany, and English Isles as well as Belarus, Lithuania, and Russia, from Ashkenazi Jewish heritage. Throughout the last two decades, NikiAnne has been immersed in community and in service to a wide range of educational endeavors focused on nature connection, personal empowerment, and community resilience. NikiAnne considers herself the grease and glue – that which helps things run smoothly or holds things together. Before co-founding SOIL in 2012, she worked and traveled through much of Asia, the Americas, and Europe, which made her formal education at George Washington University in International Affairs come alive in ways that can only happen through personal experience and relationships. Collectively, these experiences have undeniably shaped her cooperative cultural values and commitment to supporting leaders to think, feel, act and design from a foundation rooted in interrelationship. No matter what she's teaching, NikiAnne is always on the same mission: to raise awareness of our whole selves – gifts, passions, blind spots, shadows – and help those whole selves find and fill niches in their communities. This is how the web of life is woven, and the fabric of culture repaired. She's especially eager to support those in transition – between vocations, stages of life, and stories of world and self. Within this context, she is particularly passionate about community grief tending and death care midwifery.
---