News Notes – early Spring 2010
Greetings from Earthaven Ecovillage! We're enjoying the first few days of spring – with daffodils blooming and long strings of toad eggs in the ponds.
          Marie Reilly became a full member on February 28. Current provisional members Tanya Carwyn and Troy Swift will soon have company – Kaitlin Hetzner, Jonathan Swiftcreek, Eli Swiftcreek, and Karen Taylor are all scheduled for provisional member interviews and stories in the next couple months.
          In village business news,
Useful Plants Nursery
was awarded a $6,000 AgOptions grant to develop a new propagation facility. The nursery plans to propagate 80% of the plants it sells within 5 years. The
Southeast
Wise Women
have opened registration for the
2010 Southeast Women's Herbal Conference
October 1-3 in Black Mountain, NC.
Yellowroot farm
cleared a new agricultural field and distributed its first CSA share for the season – shiitake mushrooms!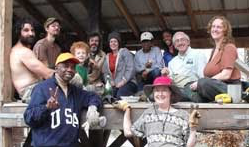 In neighborhood news: The Main Street neighborhood changed its name to the
Forest Garden neighborhood
, the
Village Terraces
neighborhood held several work parties to load firewood into the two-story firewood shed they built over the summer, and Brian Love and Chris Farmer moved into their new homes in the
Gateway
neighborhood.
          After over five years stored in a shed, the last of the lumber processed by the Forestry Cooperative graces a newly remodeled summer cabin in Bat Cave.
          Are you considering moving to Earthaven or just want to see what it would be like for a week? Join us this summer for our
Introduction to Earthaven Visitor week
. See the
Earthaven website
for details.

We have new addresses! We used to share a few addresses, but the e911 program now requires that each of our buildings has its own address and mailbox.  If you are sending mail to one of us, please verify that you have the new address.

forestry cooperative, Gateway Farm, Marie Reilly, southeast wise women, useful plants nursery, Village Terraces, Yellowroot Farm
---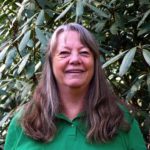 Debbie
Debbie Lienhart has been an Earthaven Ecovillage member since 2008 and is a Director of Earthaven's School of Integrated Living.
---