Green Alternative to Bleach and Cleaners
I have been delighted to discover a product offered at Shangri-Laundry that is effective for laundry and household cleaning and is environmentally friendly.  I call it "enviro-oxy" because its real name, sodium percarbonate, is such a mouthful.
You mix this powder with water in varying proportions to provide stain-remover, laundry booster, surface cleaner, and so on. It is excellent for cleaning and removing organic stains (such as coffee, tea, wine, fruit juices, foods, sauces, grass and blood) from fabrics, plastics, fiberglass, porcelain, ceramics, wood, carpets, asphalt, concrete, etc. Don't use it on wool or silk, however.
Greg Geis, laundry designer, researched to be sure that Enviro-Oxy would be safe for Earthaven's water.  After use, it breaks down to oxygen and baking soda. Sodium Percarbonate (Enviro-Oxy) is the underlying ingredient of Oxi-Clean products.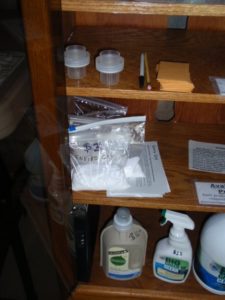 I was very pleasantly surprised to find out how effective it is for a variety of uses. Like Greg, I am a convert and use it regularly. It comes in one-cup bags, which last a long time because a little bit goes a long way.
When you get some for the first time, you can also pick up a printed sheet of all the ways to mix it and use it. There are also helpful instructions on the web. The enviro-oxy bags and the instruction sheets are in the product cabinet pictured here.
Below is a wider shot of Shangri-Laundry and the products cabinet. The products are self-serve: select what you want, put the money in a small envelope with your name, and drop it in the cash box on top of the cabinet. If you need change, go next door to the home of laundry manager Diana Leafe Christian.