Jillian's Experience Weekend Adventure
"It is not easy to do what love requires, to abandon the security I have come to rely on. I decided to follow the advice of the Prophet Nike who said, 'Just do it.'" – Fredd Lenn, Into the Heart of Everything
A churning in my soul and a restlessness in my heart signaled to me that I needed a change. I felt the strong call to move to a self-sustaining embodied community from my smaller spiritual community in California.
The three years I spent in Cali were a time of silent retreat and spiritual initiation. Now, I was craving to be warmly engaged with the world through relationships and contributing to a larger vision and mission in a conscious and deliberate way. My chapter was closing in California. I trusted in the void that was my next steps —  the free fall of endless possibility.
Then I found Earthaven and felt pulled to register for the Earthaven Ecovillage Experience Weekend.
When I first arrived in Asheville and we were driving up to Earthaven, I could feel the crystalline energy of the Appalachian mountains, and so much joy and expansion filled my heart and body. Everything was screaming yes! I was pleasantly surprised by how Earthaven was literally in the middle of a forest! The land felt well loved, alive, and thriving compared to the crisp grassy land of California.
There were around 30 people at the Experience Weekend, including a large group who were thinking about starting an intentional community in Ohio. Little did I know that we were going to be creating our own ecosystem during the weekend and that I would connect on many different levels with the people there. I met some incredible people, and we shared stories, songs, visions, and our hearts. I felt an instant connection to the facilitators — NikiAnne, Farmer, and Becky — and their embodied essence and passion for Earthaven. It felt expansive to know that I could grow in this environment where body-based practices, grief and ritual, and connection to nature are celebrated and embraced.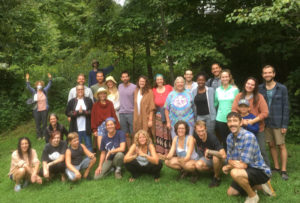 I felt grounded and connected to the land through our hikes together from each neighborhood and I loved exploring the possibilities of how people choose to build their homes and live on the land. The food was delicious and prepared with such love and intention. I loved that the meals were inclusive of everyone's dietary needs, and created from quality and sustainable whole foods, with some grown on the land. We went on a wild foraging walk with Dimitri; I learned all about the abundant native friends growing on the land and tasted their sweet and intricate notes. I gained knowledge about the building of eco-friendly homes, the governing system, how Earthaven has made consensus decisions for 27 years, and the history and stories of the people.
I knew I had found home when I felt a sense of belonging to this group of people who carried the ultimate vision of a regenerative culture that is receptive to the changing needs of its people and the land that is so cherished and honored. I felt my own growth edge would be challenged here and sensed the expansion that would come with being immersed in this level of connection.
All the stars aligned, you could say, and now I am working for Earthaven's educational nonprofit two months in, steeping in the unfolding of rich relationships, and joyfully sharing my heart and gifts with the community. I feel so incredibly blessed that Earthaven has welcomed me with such open arms and willing hearts.
The Earthaven Ecovillage Experience Weekend is a great way to become immersed into an intentional community. It gives you a snapshot into what life is like at Earthaven if you decide to make the move. I highly recommend the Experience Weekend or Experience Week if you are interested in gaining a realistic understanding of the challenges of living in a community, as well as basking in the immense abundance and richness that come from building relationships and being together through all the facets of an ecovillage.
Upcoming Offerings:
Earthaven's School of Integrated Living (SOIL) offers the Earthaven Ecovillage Experience Weekend twice this year: May 27-30 and October 7-10. There's also a new Earthaven Action Week following experience weekend so you can extend your visit and interact more with the Earthaven community.
I look forward to meeting you there, and giving you a little taste of the embodied essence of Earthaven!
Much love,
Jillian
community, Earthaven Ecovillage Experience Week, Earthaven Ecovillage Experience Weekend, intentional community
---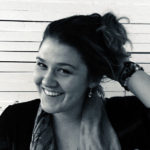 Jill Lacasse
Jill is passionate about holistic embodied living in community. Mystic, Heart-led Poet, Meditator and Yogini, Song and Sound Carrier; her fascination lies in the continual expansion and awakening of consciousness through exploring her inner world and her relationships with others. She brings a warm, joyful, bold, and free spirit to her work, relationships, and spiritual life.
---