In Praise of Inefficiency by Kimchi Rylander
by Kimchi Rylander

Unplugging from consumer culture, living simply and building community . . . it's not an easy path! As I review my past ten years here at Earthaven, I've discovered that letting go of efficiency may be a shortcut to village togetherness and happiness.
I owe so much gratitude to the Tribal Condo, one of the earliest timber framed, hand built structures at Earthaven and a place that I call home. While the original builders gained much needed skill, building with lumber hand harvested from the land, the house has minimal plumbing, salvaged leaky windows, and no inside insulation between floors. In essence, it's a house that needs constant maintenance and care. In 2001, I took a leap of faith and bought into the 1000 sq ft "apartment" house.
In the early years, I wondered if I had made a poor decision. Clearly, this house was inefficient and likely to decay sooner than other homes. However, as Suchi (my house partner) and I began to maintain and repair it, we noticed how each episode offered a tremendous opportunity to connect and relate within the village.
One year, our roof blew off when a strong wind funneled down the mountain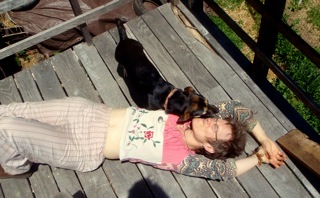 and pulled out purlins that had only been nailed (not screwed) in. Torrents of rain came down, and all the residents of our home crawled out on the roof at two o'clock in the morning to pull the tin back on. The next day, villagers offered to provide lodging for us and repair the damage. It was awesome how the community helped us through our "disaster!"
While efficiency offers a way to make the most of the available energy, time, and money we have on hand, it doesn't always maximize opportunities for relationships in a community. Take a look at Nature: at one level it's very inefficient, but at another level, it provides myriad opportunities to weave a tapestry of dense interdependency within a locale.
"If a house is built too well, so efficiently that it is permanent and refuses to fall apart, then people do not have a reason to come together. Though the house stays together, the people fall apart and nothing gets renewed. Coming together … to do communal tasks gracefully—tasks that a machine could do in an instant anonymously—or to repair rickety houses ensures the very smiley togetherness so missing in the pre-planned, alienated lives of modern civilization." (Secrets of the Talking Jaguar: Memoirs From the Living Heart of a Mayan Village, by Martín Pretchel.)

Suchi and I chuckled after discovering yet another item to be fixed in the house. "Please pass the bottle of inefficiency," I decided. "I'd like to sprinkle some more of that on my plate of life."
Kimchi Rylander was a longtime member of Earthaven Ecovillage. An artist, deep ecologist, and permaculture activist, she was continuously building delicious new cultural topsoil beginning in "her own backyard." She passed to the spirit world in 2017.