News notes – Summer 2009
We had a wonderful forum workshop with Achim and Ina from ZEGG community in Germany. We've been using the forum process for a few years and it was great to have some refresher training!
Suchi, Kimchi, and Gaspar have been facilitating forum at Earthaven for the past couple years.  Arjuna, Debbie, Mana, Steve, Clark, and Red Moon Song are joining them as a forum facilitation team with community forums scheduled twice a month.
Our abundant spring rains have turned into hot summer sun, and our gardens are growing! We harvested garlic, squash, beans, greens, and lots of berries, and even our first few tomatoes.
We celebrated the summer solstice with yoga, meditation, a ceremony at Hidden Valley, and a work day to deepen our swimming hole!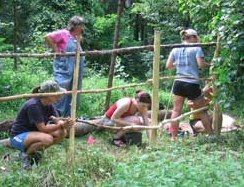 Earthaven hosted our third group of college students over summer solstice weekend. This group, from Wake Forest University, was on days 19-21 of a 27-day field trip throughout the Southeast. During a break from their studies they built a grape trellis and mulched paths in the Forest Garden.
Our teachers have been busy preparing for their summer programs. Andrew Goodheart and friends are hosting a permaculture certification course at Earthaven in August (see article later in the newsletter), Corinna is preparing for her August Wise Women Immersion course, and the women at Red Moon Herbs are preparing for the fifth annual Southeast Women's Herbal Conference.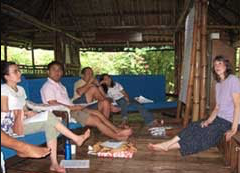 Diana has had a busy spring and summer traveling around the world teaching and speaking about intentional communities and ecovillages. Her travels so far include teaching the Ecovillage Design Education (EDE) course of GEN's Gaia Education program in the Philippines (see photo), being a keynote presenter at Portland's Village Building Convergence, and participating in the International Cohousing Summit as one of the few Americans invited. Between speaking engagements she edits the Ecovillages Newsletter.
conference, Diana Leafe Christian, Forest Garden, forum, Hidden Valley, meditation, solstice, ZEGG