Member Profile-River Otter
by Davene Wasser
Before River Otter came to Earthaven, she was creating her own lifestyle in New Orleans. She was busy gardening, developing her healing skills, and giving tours of the city. Then Hurricane Katrina struck.
"The storm was really a turning point for me," she said. "I survived the storm but a lot of people didn't. It made it clear that if there was something I wanted to do, I had to do it now."
In the aftermath of the hurricane, activists and relief workers moved into River Otter's neighborhood. "It was joy beyond belief that my people had come to my neighborhood, but I couldn't be involved the way I wanted to because I was focusing on my health."
River Otter was in her late 30s, recovering from a major illness, and her marriage was falling apart. At the same time, she very much wanted to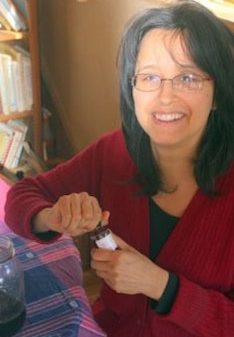 be somewhere where she could start a family.
Then one day, Patricia Allison came to New Orleans to visit her daughter, and someone told her there was a permaculture student living in the neighborhood.
"Patricia knocked on my front door and told me about Earthaven and Medicine Wheel," she recalled. River Otter visited for a week in 2006 and moved to Earthaven in March of 2007 to apprentice with Red Moon Herbs.
Living in community was challenging at first. "There were times especially in the first year or two that I thought of leaving, but I realized it was really just my own issues. The fear of putting down roots, the fear of commitment." All in all, it seemed that turning back was not a reasonable option for her anymore. "So I just walked myself through all of that." River Otter became a full member in 2008.
River Otter gives tours of Earthaven, manages the campground, teaches yoga, organizes rituals, and helps new people integrate into the community. "I'm a really service-oriented person and I'm in a place where I can do what is needed. I feel like my being here has created positive change."
As for the future, River Otter is committed to
learning more about herbal medicine, healing arts, naturopathy, meditation, and yoga. She also hopes to start a family and learn how to achieve more balance in her life.
"My skills are being valued here," she notes. "Even the skills I'm developing are being valued."
Being at Earthaven has proved to be much more fulfilling than the life she left in New Orleans. "I felt lonely. I would do all the harvesting and everything and then I'd go to a Vietnamese restaurant and get a bowl of noodle soup 'cause I couldn't bear to be alone. I can get my needs met in community."
Davene Wasser came to Earthaven in April 2010 with her son Eli and husband Jamie to simplify her life and live more closely to nature. She is a writer, editor, educator, and artist. After ten years of researching community, Davene is thrilled to be living her dream.
apprentice, herbal medicine, Medicine Wheel, patricia allison, Red Moon Herbs, rituals, Yoga