Hazelnuts
In December, the residents of Village Terraces Cohousing Neighborhood planted a new grove of hazelnut trees on the edge of their neighborhood.
We planted the European hazelnuts for their improved nut quality.
The nuts are high in oils, tasty with chocolate, and can be harvested up to a month before they are ripe so we can beat the squirrels to the nuts!
The trees came from Useful Plants Nursery, which is located at Earthaven and sells over 200 varieties of edible and medicinal plants.
grove, hazelnuts, useful plants nursery, Village Terraces
---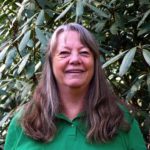 Debbie
Debbie Lienhart has been an Earthaven Ecovillage member since 2008 and is a Director of Earthaven's School of Integrated Living.
---