Natural building profile: Pokeberry

(Talk by Chris Farmer to a visitors' tour, describing the upstairs of the new building at Village Terraces)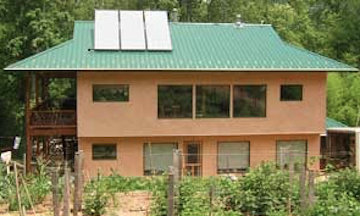 Chris Farmer and Brian Love are the two main builders of Pokeberry Hill, a two story dwelling built using ecological principles.
Farmer started by noting that many innovative building techniques are used at Earthaven, including a house at Bella Via using cob, adobe brick, and plaster, and the  Medicine Wheel house that uses lots of recycled materials – plywood from pallets, metal beams from railroads, and recycled flooring.
Stud framing
"Brian and I are fans of stud framing. We used 2×6 low-quality poplar felled here at Earthaven for the framing. Studs are the basis of the cheapest, easiest walls and are especially efficient for a complex building with plumbing, electrics, closets, and cabinets. This is a complex building, but the studs went up in a week."
Q. What about using recycled plastic for framing?
Farmer: Recycled plastic beats treated lumber, and it's certainly rot resistant. But we have lots of timber at Earthaven. Here, we air dry the wood then treat it with Boracare, which is low toxicity, to make the wood resistant to termites, powder post beetle, and other boring insects.
Heat
For insulation, we spray cellulose (paper) into the walls – the thermal index of the ceilings is around R23 –to R25, and the walls, R50. The walls are finished with earthern plaster – clay and lime. We used natural finishes – plant waxes and oils.
We put in concrete countertops. We don't like Portland because it takes so much energy to make it, but we wanted this second story room to have lots of mass to store heat from the sun.
The building design maximizes passive solar heat. The south facing windows get no direct sun in the summer due to the overhang. But in winter the sun is lower and floods through the windows. The heat from the sun is absorbed by the floor (a floating concrete slab) and the countertop.
On the north, there is wood flooring, and on the south, cement. Underneath the floor, there is the potential for radiant heat. Also, insulated pipes bring hot water to heat the floor. In the winter, on sunny days, it's warm enough to warrant cracking the windows.
Q What about noise?
The building is not as noise proof as we hoped. We've been running band saws which does disturb the folks downstairs. Ah well, the music lovers will have to curb their taste for loud.
Q What are your power sources?
Earthaven is entirely off the grid, relying on a small hydro-electric plant and solar panels for current while maximizing passive solar for heat. Pokeberry shares solar panels with the Village Terraces building. Most appliances run on 24V DC, including the lights, the refrigerator, and ventilation. There is a huge battery back up, storing the power. There are also AC outlets, powered by DC current run through an inverter, but the inverter is susceptible to lightning.
Q. Would you build elsewhere?
We prefer to build in and around Earthaven, but if there is work further away, we can go there. We have a box truck with solar panels (name of truck) and a storage battery. There is also a 200 amp fire truck battery. The truck runs on bio diesel.
Our goal is to improve our cash flow to the point that we can retire to farming and raise turkeys, sheep, and vegetables. This year we are growing a lot of squash and melon, and raising Icelandic sheep and turkeys.
Q. How many rooms are there?
There is the big open room, including a kitchen alcove, that runs practically all the way across the southern exposure, a bedroom, two small offices, and a bathroom. It's basically a 1,000 sq foot, three bedroom house.
Cost
Building on ecological principles, everything takes longer. And it is all hand done – all the wood panels are joined as is the carpentry. The building itself costs $125 per square foot. About half of cost is labor.
The downstairs tenant comments, "It's beautiful, and it is so quiet here." The notetaker responds, "At least when the band saws are off and the building is done."
Chris Farmer is a full member at Earthaven, a builder, and a farmer at Gateway farm.
boracare, Brian Love, Chris Farmer, Gateway Farm, passive solar, pokeberry, solar panels, Village Terraces