New yome for the tribal condo
by Suchi
A yome is a variation on the concept of a yurt. It has eight sides while a yurt is round. It is 18 feet across, has canvas sides and roof, and is completely insulated, with four windows and a wooden door. And… it is locally made by Peter Belt's Red Sky Shelters.
We installed the used yome on a high deck behind the Tribal Condo, which is home to Suchi, Kimchi, and Marie.
The 24' by 24' deck was built by Robert, Darren, and Robin. Thank you! It was quite a project. It is high enough to hang a wooden swing made by our very own Greg Geis, who produces them in his wood shop on the land.
Since we began using the yome three months ago, we have had yoga once a week, hands on healing and shamanic journeying classes, movies, planning sessions, and just plain retreat time. In the future we are interested in having book discussions and small group retreats. It is wonderful to feel that the space meets so many needs.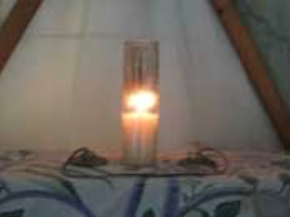 In addition, our personal guests will have a private place to stay that is airy, dry, and roomy. They will, however, hear the music of the frogs, squawking of the chickens, and the drumming of an occasional piliated woodpecker, as well as a multiplicity of human sounds.
Suchi is a full member at Earthaven with a passion for hospitality and community.
Greg Geis, Kimchi, red sky shelter, Suchi, Tribal Condo, Yoga, yome, yurt