New Baby!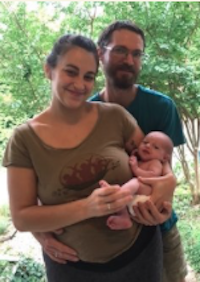 We're blessed with the arrival of Jasper Ori Millar-Swiftcreek, born to Julia and Jonathan August 29, Virgo Sun/ Sagittarius Moon!
Originally from Richmond, VA, Jonathan came to Earthaven from Asheville in 2009. He is passionate about family and children, and about food production and cooking, nature connection, health and wellness and herbalism. He works with Red Moon Herbs in Asheville three days a week. Jonathan is also Dad to Oakley Swiftcreek, who lives part-time in the Hut Hamlet.
Julia came to Earthaven in 2011 after exploring community in Europe, Israel and the U.S. She grew up in Louisville, KY. Julia lived in several neighborhoods before she joined Jonathan at Village Terraces. Feminism and women's spirituality, Judaism, family, holistic healing and gardening are at the top of her list. When Jasper is old enough, she plans to continue pursuing a nursing career.